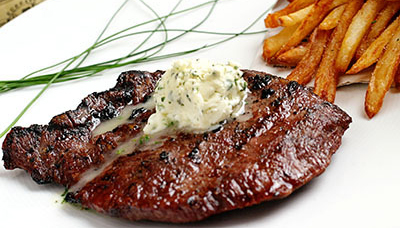 Chuck Roast
Thaw 2-3 lb Chuck Roast Completely and place in Crock Pot.
Add 1 1/2 Tbsp Salt, Pepper to taste, a pinch of Dried Basil & Parsley, 1 Teas. Garlic Powder and 1 Teas. Onion Powder.
If desired, add cut Carrots, diced Onion, and Boiler Potatoes cut in half.
Add 1 quart of Beef Stalk and 2 cups of Beer or Red Wine.
Cook on high heat for 6 hours.
Serve Hot. Enjoy!!!!
Cube Steak
Thaw your 5 oz. Cube Steak completely.
Add 1 Tbsp Butter to a skillet on Medium heat. Once butter has melted, place cube steak in center of pan. If desired sprinkle with NaturAll Steak Salt and Seasoning, or Salt and Pepper to taste. Cook 2-3 minutes on each side or until reaching an internal temperature of 160 degrees. Serve immediately.
Suggestion: Place cooked Cube Steak on a toasted slice of Marbled Rye Bread. Top with Onions sautéed in butter and a piece of Provolone or Pepper Jack Cheese. Enjoy!!!!
The Perfect Steak
Is there any such thing as the perfect steak?
YES! The Perfect Steak is just the way YOU like it!
Channel your inner Chef, your inner Grill Master! Try your own seasoning! Experiment a little!
Try it a little rarer, or maybe a totally different cut than you normally eat!
Be inventive! Mix up a marinade or start up the smoker!
Whatever it is that you do, make it yours, and own it!
And Please! Share your ideas with us!
Brisket
Pre-Heat Oven to 350 Degrees - Thaw Brisket Completely
Dry Rub a 7-9 lb Brisket With:
Salt, Pepper, Chili Powder, Onion Powder, Garlic Powder, and any other seasonings you might like.
Put in oven uncovered for 1 hour.
Lower heat to 300 Degrees
Add 1 - 2 quarts of Beef Stock, and 1/2 bottle of Red Wine - Just enough liquid to render about and inch and a half in the bottom of the pan. COVER and cook for 3 hours. Serve pulled or sliced, add BBQ Sauce if desired. ENJOY! (Cut time in half for small briskets.)
2" Steaks
Thaw your 2" Ribeye, New York, or Tenderloin Filet completely.
Preheat Oven to 300 degrees.
Add 1/2 Tbsp of Butter to a Cast Iron, or oven-safe Teflon Skillet on Medium-high heat. Once Butter is melted, place steak in the center of the pan. If desired, sprinkle with our NaturAll Steak Salt. Sear steak for about 45 seconds to 1 minute on each side - repeat once.
Place skillet in oven and let cook for 15 minutes.
Or place on Medium-High Grill for 15 minutes if smokey flavor is desire. Enjoy!!!!
Flat Iron Steak
Thaw your 4, 6, or 8 oz Flat Iron completely.
Add 1 Tbsp of Butter to a skillet on Medium Heat. Place Flat Iron in center of pan. If desired sprinkle with NaturAll Steak Salt. Cook for 3 - 5 minutes flipping twice or until reaching 136 degrees internal temperature.
We do not recommend cooking Flat Irons on a Grill. Due to the thin cut of the Flat Iron, It may become dry if grilled.
Enjoy!!!!